Vissing, News and Tribune's press supervisor, retiring after 48 years with newspaper |
4 min read
JEFFERSONVILLE — If you don't count his birth announcement, John Vissing's start with the News and Tribune came because of Indiana's state high school basketball tournament.
Vissing received a call from former Circulation Manager Marge Staton on March 16, 1974. Instead of working, an employee had decided he would attend the state tournament scheduled for the upcoming week, and Staton offered the 17-year-old Vissing a job delivering newspaper bundles to carriers.
That Monday, March 18, 1974, Vissing showed up for work at what was then The Evening News. Aside from his paid time off, Vissing has been at work every day since. But his over 48-year-streak comes to an end Friday, as the News and Tribune's pressroom supervisor is retiring.
"I've worked with a lot of great people here. It's really what's kept me here," Vissing said.
Vissing quickly advanced in the newspaper business due to his skills and ability to take on additional duties. He was promoted to mailroom supervisor at The Evening News, which later merged with The Tribune to form the News and Tribune, after only about a year with the business.
Vissing learned how to help with the press, and that put him on a path that would define his career.
Vissing worked under former Evening News Press Foreman Max Ruddell for about 15 years. After Ruddell retired in the 1980s, former Publisher Don Newton promoted Vissing to press supervisor.
The printing industry has changed considerably during Vissing's career. From using hot lead and stopping the presses regularly to line up the print to the implementation of plates to streamline the process, Vissing said technology has made a substantial difference in the process.
But what hasn't changed in decades in Southern Indiana is Vissing's watchful eye. He smiled as he referenced how press operators may not receive credit when they catch an error, but they certainly will hear about it if they print a newspaper with a glaring mistake.
"We are the last line of defense," Vissing said.
Known by his co-workers for his calm nature and steady presence, Vissing has guided the printing of Southern Indiana's newspaper of record with professionalism that his peers and supervisors said is second to none.
During a retirement ceremony at the News and Tribune on Thursday, Publisher Bill Hanson read a performance review from 2010 in which he hailed Vissing's aptitude to lead the press department.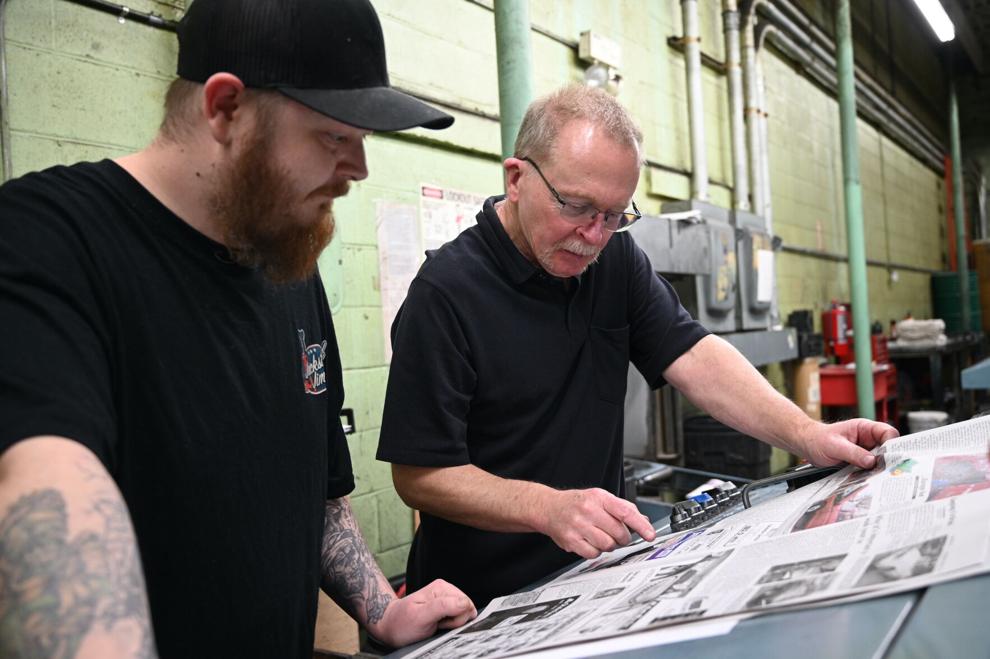 "I would put John up against any press supervisor I've worked with in my career," Hanson wrote in that review.
He emphasized Thursday that nothing had changed in a dozen years.
"I could have written that today, and it would still be true," Hanson said.
Donna Barrett, CEO of the News and Tribune's parent company, CNHI, first met Vissing when they were both employees at The Evening News about 35 years ago.
"From the start, I have always had the highest respect and admiration for you and your excellent work," Barrett said in a letter written to Vissing in recognition of his retirement. "Simply put, our newspaper always looked better than other newspapers because of your skill and commitment."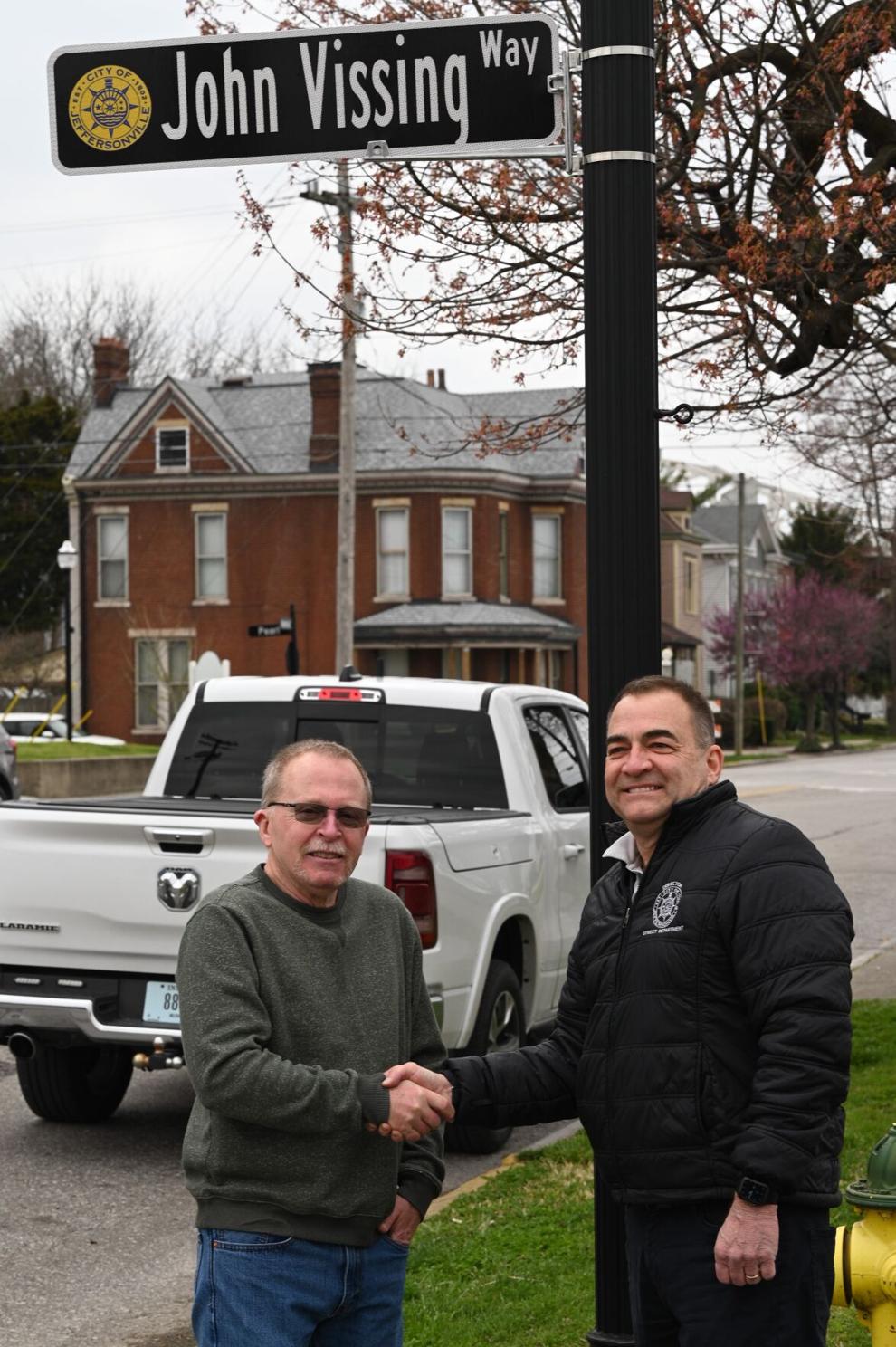 Jeffersonville Mayor Mike Moore signed a proclamation declaring March 31, 2022 as John Vissing Day. A sign labeling the alley adjoining the News and Tribune's Jeffersonville office as John Vissing Way was unveiled Thursday. The alley serves as the pickup spot for delivery drivers for the newspapers that have been printed under Vissing's watchful eye for decades.
Hanson said that Vissing is one of the most talented people he's worked with during his career.
"His calm demeanor and his love for this newspaper and this community is evident by his devotion to both," Hanson said. "To spend 48 years at one job is incredible no matter who you are. John has the skill to work in almost any printing facility. He chose to exhibit those skills here. Our staff and readers have benefited greatly from that commitment."
Vissing met his wife, Michelle, while working at the newspaper. She's a former graphic designer and was employed at the Jeffersonville office for about five years. The couple will celebrate 22 years of marriage in May.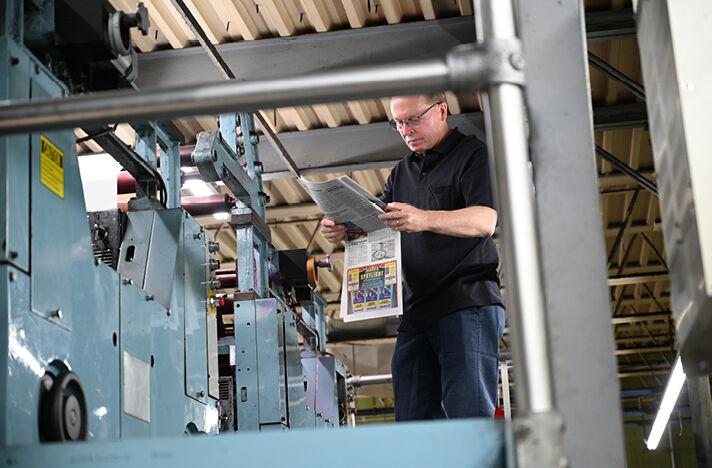 In an industry where minutes matter, Vissing has dedicated long hours to serving the industry and the public through his profession. He acknowledged that while he's proud of his career, working until the early hours of the morning meant missing some important family time. In the coming months, Vissing said he's looking forward to catching up on some of those events such as watching his grandchildren play sports.
It's the newspaper that carried his birth announcement, and Vissing said it will hopefully last to print his obituary. But he stressed that the public can't take local journalism for granted.
"Make sure you support your local newspaper, because once it's gone, you have no accountability left," he said.